Tue., July 1, 2014, 4:06 p.m.
Man Claims Divine Right To Pack Heat
Rick Henderson is passionate about many things - family, religion, politics and the right to protect oneself. A confessed firearms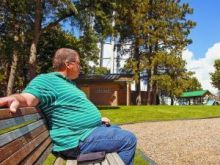 enthusiast, he owns more than a dozen guns, already has a concealed weapon permit and is in the process of getting his enhanced concealed permit. When he's out and about, there's about a 90 to 95 percent chance that he's packing. He said he occasionally finds himself on the University of Idaho campus, and once he has his enhanced concealed permit, he will carry a firearm there as well. He's not just a gun-nut, though, and carrying a weapon isn't something he just does because it makes him feel tough. "From my perspective, it's a God-given right, the right of every human to protect themselves," he said. "No entity that is sanctioned by the government has the right to take that away"/Bill McKee, Moscow-Pullman Daily News. More here. (Daily News photo by Dean Hare: Rick Henderson sits on a bench Sunday at Jim Lyle Rotary Park in Moscow while carrying his pistols)
Question: Packing heat is a divine right?
---
---