Tue., July 1, 2014, 1:31 p.m.
'Redskins' Hubbub Annoys Wellpinit
This little town of 928 (Wellpinit, Wash.) — with its one grocery store, one gas station and one stop sign — is far, far away from the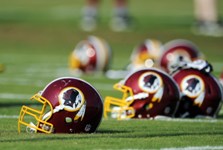 national controversies of the day. To get here, you drive about an hour north of Spokane, past fields of barley, wheat and canola with yellow flowers, past the forests. It is home for the Spokane Tribe of Indians, and for 107 years, the Wellpinit High School mascot name has been Redskins. Wellpinit doesn't particularly want to be part of stories about its mascot. But the tribe gets calls because of the controversy 2,600 miles away in Washington, D.C., with the Redskins NFL team/Seattle Times. More here. (AP file photo)
Thoughts?
---
---