Wed., July 2, 2014, 8:41 a.m.
Canadian Arrested On Rape Charge
At 5 p.m. Tuesday Coeur d'Alene Police detectives arrested Joshua G. McKenzie, 26, of Alberta, Canada, on charges of rape, sexual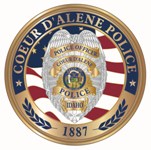 exploitation of a minor, and destruction of evidence. On Monday, McKenzie allegedly traveled to Coeur d'Alene to meet a 16-year-old female he had been corresponding with on-line. The alleged victim friended McKenzie on Facebook about 6 months ago. On Monday night, according to a Coeur d'Alene Police Department release, McKenzie contacted the victim by phone. She agreed to meet McKenzie and go to a local motel. He picked her up at her residence and they checked into the motel together where they spent the night and a sexual act allegedly occurred. Her mother believed she was with another friend spending the night. On Tuesday, according to the police release, the victim took McKenzie home to meet her mother, and her mother called police. McKenzie was taken into custody at the Police Department after speaking to detectives. He was booked into the Kootenai County Public Safety Building.
Question: Should this incident serve as another cautionary tale to parents w/teens who use social media?
---
---