Wed., July 2, 2014, 9:11 a.m.
CdA Produces Best Idaho Sandwich
The staff of the online Zagat (New York City) has produced a list of the best sandwich in each state. The best of Idaho? The Chicken Bacon Cheddar Philly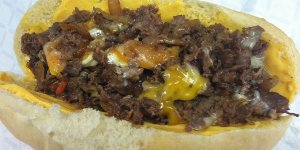 made by Best Sandwich, 512 Best Ave/Coeur d'Alene (the same food court that once housed Bent and his BBQ). The Zagat writes: "Move over, Philadelphia. Best Sandwich Shack, a tiny truck located on Best Avenue, serves a heap of Philly cheesesteak options, our favorite being the chicken bacon cheddar variety. This sandwich is piled high with shredded white meat chicken, crispy bacon and cheddar cheese and smothered with ranch dressing." You can see a photo of the acclaimed sandwich here. (Zagat photo of Chicken Bacon Cheddar Philly)
Question: Have you tried Best Sandwich?
---
---