Wed., July 2, 2014, 11:02 a.m.
CPD: Leave Dogs Home On 4th
Coeur d'Alene is the host to numerous outdoor events during the summer months. Many of the planned activities take place in the city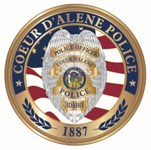 parks. Every year animal control officers deal with complaints of citizens bringing their dogs to the parks. The 4th of July celebration in the park brings about the largest number of complaints. The park rules are clearly marked in several locations in the park. Many citizens attempt to bring their dog to the park and have them sit on a blanket with their leash tied to a picnic table for the day. Or they attempt to keep the dog in a portable kennel on the grassy area. This is not allowed and dog owners could receive a citation. Citizens are reminded that dogs are not allowed in any City Parks with the exception of Tubbs Hill/Sgt. Christie Wood, Coeur d'Alene Police Department. More here.
Question: Are you bothered when you see owners bring dogs to crowded events downtown?
---
---