Wed., July 2, 2014, 9:01 a.m.
Granita: Grown-Up Snow Cones
As cool as ice cream but lighter and more refreshing, granitas are quite possibly the perfect summertime treat. While they aren't as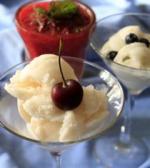 dense or as heavy as ice cream, they still offer plenty of intense flavors. And the semi-frozen dessert is super-simple to make from scratch. Granitas, grown-up versions of those neon-colored slushies and snow cones of childhood summers, can be made without any special equipment or ingredients. No rock salt is required. You don't need a fancy machine, unless you count a blender – and that's only needed if you're puréeing fresh fruit or berries. If you have a small saucepan, tray and a fork, you've got the gear. For the fixings, all it takes is water, sugar and purée, juice or another liquid – like tea or coffee/Adriana Janovich, SR. More here. (SR photo: 2 easy-to-make granitas: a cherry-topped coconut-rum concoction (front) and blueberry-sprinkled coconut-lime or strawberry-black pepper flavors)
Question: When did you last enjoy a home-made granita?
---
---