Wed., July 2, 2014, 10:51 a.m.
Screen Legend From Boise Featured
Screen legend Maureen O'Hara, who moved to Boise to be near family in 2012, is Turner Classic Movies' featured star of the month for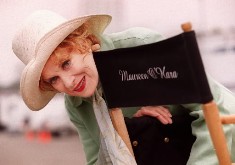 July. The classic movie channel will run 26 Maureen O'Hara films throughout the month. The celebration began Tuesday with the airing of 1939's "The Hunchback of Notre Dame," which paired O'Hara with acting great Charles Laughton as the hunchback. TCM also aired "How Green Was My Valley," about life in a Welsh mining town. The film introduced O'Hara to director John Ford and through him to John Wayne, with whom O'Hara made some of her best known films, including "The Quiet Man"/Bill Roberts, Idaho Statesman.
Question: Do you think the famous chase scene between John Wayne and Maureen O'Hara in "McClintock" could be filmed today without igniting protests?
---
---