Thu., July 3, 2014, 9:29 a.m.
To Be In Coeur d'Alene On 4th Of July
On the way home Wednesday, I listened to Dennis Patchin, Rick Lukens and Keith Osso (ESPN700) discuss summer and the national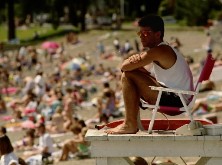 pastime. They discussed how baseball remains the national pastime, although football is America's sport. Baseball, they theorized, is associated with those care-free days of summers gone by when we were free from school for three months. (Wouldn't that be nice to get summers off now?) At one point, one of the ESPN700 team raised the question: Do you know the best place in the world for a young man to be on the 4th of July. I almost raised my hand in my rig because I knew the answer. The host, of course, said: "Coeur d'Alene." I've never been a single, young man in Coeur d'Alene. I was married when I arrived in 1984. The ESPN700 crew, of course, were talking about all the activities of Coeur d'Alene's Fourth, the waterfront, and, I suppose, all the girls in bikinis at City Beach and Independence Point. However, I'd be willing to say that it's hard to beat Coeur d'Alene on the 4th of July for anyone of any age. You have a parade, activities at City Park all day, and the fireworks at night. As one who walks along the waterfront at least 5 days a week, I'd say that the beauty of the north shore is hard to beat anywhere else, any day of the year/DFO. (SR file photo: Jesse Tinsley)
Question: What do you consider to be Coeur d'Alene's biggest attraction on the 4th of July?
---
---