Thu., July 3, 2014, 8:21 a.m.
Pot Grower Hopes To Hit Pay Dirt
Along the hills leading to Mount Spokane, Frank Schade has turned an old warehouse building into an indoor farm with the newly legal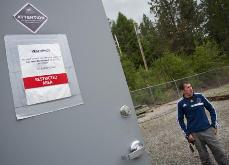 and valuable crop: marijuana. He's set up security cameras and alarms, purchased the best in organic and natural products and brought in cultivars that are sure to find favor in the market, he said. Schade says he is on course to become one of the state's newest marijuana millionaires thanks to the voter-approved initiative measure two years ago. As the first retail outlets prepare to open on Tuesday, Schade, a licensed marijuana grower, plans to have some of his product on the shelf – as long as supplies last, he said. The emerging business is like a modern-day gold rush, and "I've got a honey hole," he said/Mike Prager, SR. More here.
Question: How do you suppose Washington's legalized marijuana will impact bordering towns in Idaho?
---
---