Mon., July 7, 2014, 12:56 p.m.
Does 'October Surprise' Await Otter?
Governor C.L. "Butch" Otter conveys an image of serenity and certainty as he goes from political events like the "God and Country" rally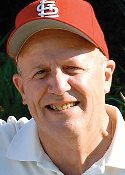 held in Nampa to the 4th of July parade in Idaho Falls where he and wife Lori, dressed in matching outfits, display their horsemanship skills. Beneath that façade of confidence that Idahoans will still reward his lackluster record by electing him to a third term there has to be a heart full of anxiety that the chickens will come home to roost regarding his disastrous venture into the private management of a state prison facility. A worst case scenario that some Democrats pine for is if not Butch, several people close to him may be charged with obstruction of justice before the November election. In political parlance it is called an "October surprise"----an event that breaks into the news just before the voters cast ballots. Overnight it can change the electoral dynamic/Chris Carlson, Carlson Chronicle. More here.
Question: Could Butch Otter be hit with an "October surprise"?
---
---