MONDAY, JULY 7, 2014, 8:32 A.M.
Letter: Loss of Center, Lack Of Vision
I've been searching for a word to describe my reaction to the news that the "mental health facility went south." Dismayed? Appalled at the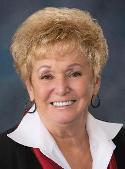 lack of vision by our North Idaho legislators? Disgusted? If the legislators from our area who didn't support this have had the good fortune to not personally deal with mental illness, maybe it would help us understand their position. However, as legislators, they surely had to understand the financial benefits these centers will provide to their communities. As taxpayers, we should be able to demand responsible choices in the use of government resources. If indeed Coeur d'Alene was favored in the running for the center, my mother had a saying that fits their decision to not support the center: "Cutting off your nose to spite your face"/Vinetta R. Spencer, Coeur d'Alene, letter to the editor, Coeur d'Alene Press. More here.
Question: Sen. Bob Nonini & Reps. Kathy Sims (pictured), Ron Mendive & Vito Barbieri opposed this project. Mendive said he did so because he opposes the expansion of government. Barbieri cited the cost. Sims and Nonini didn't respond to photo calls for comments. Thoughts?
---
---