Tue., July 8, 2014, 8:32 a.m.
More WW2 Planes To Visit CdA
This big girl had a rough time of it. "Fifi," the world's only flying B-29 Superfortress, was a World War II hero, a latecomer who flew crucial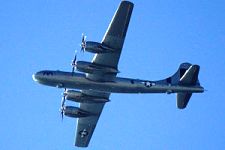 missions in the Pacific Theater. As many as 1,000 B-29s at one time bombed Tokyo. These massive bombers - with a longer range of 5,830 miles and bigger bomb load than its predecessors the B-17 and B-24 -- dropped the war-ending bombs on Hiroshima (the "Enola Gay") and, three days later, Nagasaki ("Bockscar"). From such glory to serving as target practice for Navy missiles in California: She came a long way, baby. Finding Fifi in a Naval proving ground in sad condition, the nonprofit Commemorative Air Force rescued her in the 1970s, spent many years and dollars restoring her, and sent her back into the skies. She now tours the nation in pristine condition. You can see her at the Coeur d'Alene Airport through Wednesday, with hours 9 a.m. to 6 p.m. Ticket prices are $10 for adults, $5 for children ages 11 to 17. Children age 10 and under may visit for free/Sholeh Patrick, Coeur d'Alene Press. More here. (Wikipedia photo: Fifi in flight)
Question: Do you plan to see the B-29 Superfortress?
---
---