Tue., July 8, 2014, 4:43 p.m.
PFPD Reports Twin Slaying
Patrick Erickson/KHQ provides confirmation that the bodies of an adult female and a girl were found found at this Post Falls apartment complex @ Laurelbrook Drive & Donegal Lane. (KHQ photo via Twitter)
A Post Falls man has been arrested in connection with the deaths of his wife and young daughter, officials said. Officials responded to the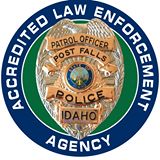 area of 15th and Spokane Street for a welfare check after a woman reported that a family friend told her he had strangled his wife and child, Post Falls Police said in a news release. The woman told police that the man had left her residence, and officers were able to stop him near Spokane Street and Poleline. After detaining him, detectives went to his apartment on the city's north side and found two bodies. The suspect has been taken into custody and investigators are obtaining a search warrant to process the crime scene at Tullamore Commons, an apartment complex at 4172 E. Laurelbrook. The 50-unit apartment complex was developed by Whitewater Creek Inc. of Hayden in 2009. It's west of State Highway 41 and north of Poleline Avenue/SR. More here.
---
---