Tue., July 8, 2014, 11:13 a.m.
Stein: North Idaho's Hot, But Viewtiful
"Still here in Sandpoint, Idaho, and it is too darned hot," writes conservative commenter Ben Stein ("Ferris Bueller's Day Off") for the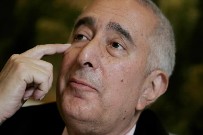 American Spectator. "It's often hot in the middle of continents in summer and this is no exception. The real problem is the humidity though. We left D.C. to escape the humidity. It was unbearable, like being in a steam room with your suit and tie on. We do not have much humidity in L.A., but we sure have plenty of it here in North Idaho this summer. However, it's all fine. There are hundreds of friendly people out on City Beach, many wanting to say hello and pose for pictures with this old fellow. There is incredibly tasty kettle corn. And there is Lake Pendoreille, limitless cool blue expanse of water, blue sky, clouds, and mountain forests. My brilliant, world-traveling sister, called me to report on her just concluded trip to Tanzania. She generously noted that while it was beautiful, it was no more beautiful than North Idaho, and then added, 'No place is.'" Stein, pictured, goes on to praise Pat Buchanan's new book. More here.
Question: Is there any place more beautiful than North Idaho?
---
---