Thu., July 10, 2014, 3:11 p.m.
2 Finalists Remain For CPD Chief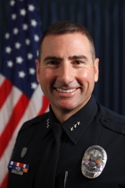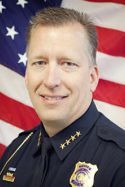 The search for Coeur d'Alene's next police chief has been narrowed to 2 candidates. Lee R. White, left, assistant police chief in Mesa, Arizona, and Gary R. Jensen, chief of police in Logan, Utah, have both visited Coeur d'Alene and will soon be interviewed in person by a selection committee formed earlier this year by Coeur d'Alene Mayor Steve Widmyer. "I'm very pleased that we have two highly qualified individuals who are eager to continue their careers in Coeur d'Alene," Mayor Widmyer said. "I believe either of these experienced law enforcement officers would do a great job leading our police department"/Keith Erickson, Coeur d'Alene Today. More here.
Question: Are you surprised that the city of Coeur d'Alene is going outside the department for a new police chief?
---
---