Thu., July 10, 2014, 11:23 a.m.
4000 Holes Celebrates 25 Years
Everywhere you turn in 4000 Holes, the Beatles are grinning back at you – from posters hanging around the store, cardboard cutouts in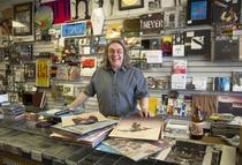 the corner, vintage memorabilia behind the counter, a Fab Four clock shaped like a gold record on the wall. It seems perfectly appropriate, since the store basically owes its genesis to John, Paul, George and Ringo. Bob Gallagher, pictured, the longtime owner of the Spokane record store, says he became obsessed with the Beatles sometime in the '70s, and in his quest to get his hands on anything and everything related to the band, he fell unassumingly into the record business. "In the '80s, I started wheeling and dealing a little bit and found I was good at it," Gallagher said. "I went to a Seattle record swap with a stack of records in my hand, and the trade was so good toward me that I realized I was on the wrong side of the table"/Nathan Weinbender, SR. More here.
Question (for those who still have vinyls/LPs at home): Which musical style dominates your collection?
---
---