Thu., July 10, 2014, 8:22 a.m.
Liam, Sophia Top Idaho Baby Names
If you're a baby boy in Idaho, chances are your name is Liam. A girl? Sophia. Those were the most popular names given to babies born in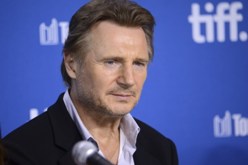 Idaho in 2012, according to the state's latest annual vital statistics report, out this week from the Idaho Department of Health & Welfare. For boys, the top 10 baby names, after Liam, were William, Mason, Jacob, Michael, Samuel, Wyatt, Logan, Ethan and Carter. For girls, after Sophia: Olivia, Emma, Ava, Abigail, Elizabeth, Chloe, Emily, Zoey, and Brooklyn. Among the unusual names given Idaho babies that year: Britannica, Versailles, Awesome and Truce/Betsy Russell, Eye on Boise. More here. (AP file photo: Actor Liam Neeson has a popular first name)
Question: Do you have an old-fashion name?
---
---