THURSDAY, JULY 10, 2014, 8:16 A.M.
Local Woman Wins NIC Raffle House
Jean Mayberry, pictured) trembled with excitement when she heard that she won the grand prize of the North Idaho College Foundation's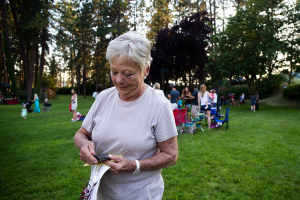 21st annual Really BIG Raffle: a beautiful, brand-new $288,000 house. "I'm in shock," she said. "I couldn't believe it!" Mayberry, 76, of Coeur d'Alene, was holding two tickets Wednesday evening in Cheamkwet Park as NIC Foundation executive director Rayelle Anderson announced the winning numbers. "I bought this ticket for my son," Mayberry said in disbelief. "Right now he's in California, so I'm going to have to call him so he can get back here." Mayberry said she had the opportunity to tour the house prior to the raffle. "I thought it was gorgeous," she said while thanking passersby for congratulatory comments. Mayberry said she will "absolutely" be giving the house to her son, Bill Novelli of Coeur d'Alene. "He'll probably pass out," she said. "I couldn't believe it. I looked at my ticket and I thought, 'That can't be me'"/Devin Heilman, Coeur d'Alene Press. More here. (Press photo: Tess Freeman)
Thoughts?
---
---