Thu., July 10, 2014, 8:36 a.m.
'My Fair Lady' Opens CST 47th Year
Call it Coeur d'Alene Summer Theatre, version 2.0. The 47th year of this nonprofit organization's season of plays is going to feel a little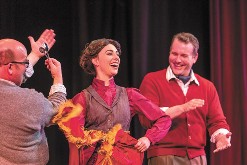 different than the 46th installment. First off, there's a new venue. Then there's a new front office and philosophy. Regardless, professional theater, just as it has every summer since 1968, will hit the stage in North Idaho. "We have a lot at stake here. We're letting people know that we're still open," says Laura Little, who was hired as the summer theater's executive director in October after the organization's board laid off its executive staff. A seasoned theater producer who still works on Broadway productions when not consumed with the summer theater, this is Little's second time around on the staff of the organization. "People are going to see the quality of these productions and remember why they love this," she says, just a few days prior to the opening night of My Fair Lady, the first show of a pared-down season/Mike Bookey, Inlander. More here. (Inlander photo by Mike Weigand: Allison Standley (center) and Greg Stone (right) in Coeur d'Alene Summer Theatre's production of "My Fair Lady")
Question: Do you plan to see a Coeur d'Alene Summer Theatre show this year?
---
---