Thu., July 10, 2014, 9:23 a.m.
Police Gave Shooter Gun Back
The man who killed his wife and then himself at Deaconess Hospital on Tuesday had been evaluated by law enforcement as a potential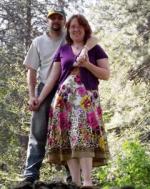 suicide risk less than 24 hours earlier. Spokane Valley police officers cleared Christopher P. Henderson after determining he was not a threat to himself or others. On Monday, Henderson had alarmed a co-worker at West Corp. when the 37-year-old said "his life wasn't worth living," because "his wife wanted to leave him for another woman," according to a police report. Three hours after deputies cleared him, Henderson retrieved a gun from Spokane police that had been confiscated in May during an earlier suicide attempt/Jody Lawrence-Turner & Kip Hill. More here. (Facebook Photo: Christopher and Sheena Henderson in a photo from her Facebook page)
Thoughts?
---
---