Thu., July 10, 2014, 9:16 a.m.
Suspect: 'I Had To Kill (Girl), Too'
The man accused of strangling his wife and her little girl in their Post Falls apartment Tuesday first removed his own two young daughters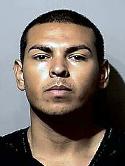 from the household before returning to commit the killings, authorities said. Angel Albertico Morales-Larranaga, 24, is charged with two counts of first-degree murder in the deaths of Facunda Velenzuelaleon, 24, and Dayana M. Valencia, 6, in the apartment he shared with them. He is being held on $2 million bail. Morales-Larranaga may have been distraught over his wife's infidelity, and he had self-inflicted cuts on his wrists when taken into custody, according to court records. A family friend informed police that Velenzuelaleon, also known as Rhianna, told her husband last week that she had cheated on him during a recent trip to California/Scott Maben, SR. More here.
Thoughts?
---
---