Thu., July 10, 2014, 8:54 a.m.
From Wish Recipient To Wish Intern
Carissa Outen, pictured, wanted to swim with the dolphins. Diagnosed with follicular lymphoma at 16, she endured six months of chemotherapy and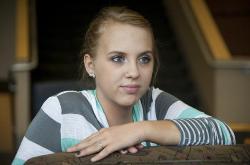 desperately needed a break from doctor visits, blood draws and grim news. Enter Make-A-Wish. The nonprofit foundation sent Outen, her mother and her sister on a Caribbean cruise. "It was incredible," she recalled. "It was like the whole cruise was put on just for us." Shortly after they returned from the cruise in 2009, she found out her cancer had returned. "It came back faster and at a higher stage," Outen said. "It's chronic – not curable." She underwent aggressive chemotherapy and a stem cell transplant in 2010. The following year, Outen started college at Gonzaga University. She is not currently in treatment/Cindy Hval, SR. More here. (SR photo: Dan Pelle)
Question: Izzit just me -- or does it seem more and more young people are fighting cancer?
---
---