Fri., July 11, 2014, 4 p.m.
Babe Ruth Debuted 100 Years Ago
On this date in 1914, Babe Ruth made his major league debut as a 19-year-old pitcher with the Boston Red Sox. He held the Cleveland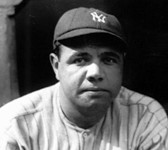 Naps to three runs (two earned) in seven innings to earn the win at Fenway Park. Here's the box score. Among those in the Naps' lineup were Shoeless Joe Jackson and Hall of Famer Nap Lajoie. Ruth made two more starts and one relief appearance with the Red Sox the rest of the 1914 season, finishing with a 3.91 ERA in 23 innings. He joined the staff full-time the next year and pitched to a 2.44 ERA in 217 2/3 innings. The year after that he led the league with a 1.75 ERA in 323 2/3 innings/CBS Sports.com. More here.
Question: Which pro-1950s Major League Baseball player is your favorite?
---
---