Fri., July 11, 2014, 3:52 p.m.
Free Slurpees At 7-Eleven Until 7 PM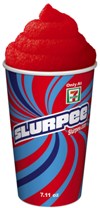 You get a slurpee! You get a slurpee! You get a slurpee! Fans of the eponymous slushy 7-Eleven treat are in luck — the convenience store chain is giving away free Slurpees on Friday from 11 a.m. until 7 p.m. to celebrate its 87th birthday. The sugar-high event known as "Free Slurpee Day" started in 2002, though the icy drinks have been sold in stores since 1965. This year, there are more freebies than ever — the ordinary one-day giveaway has extended to an eight-day free-for-all for customers who download the 7-Eleven app/New York Daily News. More here. (AP file photo)
Question: I can't remember if I've ever consumed a Slurpee. I'll pass on the free one today. How about you?
---
---