Fri., July 11, 2014, 1:24 p.m.
Joint Chiefs Back Bergdahl Swap
The nation's top military commanders unanimously support the controversial swap of Army Sgt. Bowe Bergdahl, pictured, for five imprisoned Taliban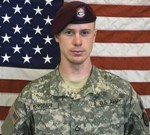 leaders, letters released Thursday show. In the wake of criticism of the May 31 exchange, mainly from Republican lawmakers, Senate Armed Services Committee Chairman Carl Levin solicited the views of the Joint Chiefs of Staff. All seven members of the Joint Chiefs, who head the major military services, sent Levin letters in support of the deal. "Each of these military leaders emphasized a simple principle _ America does not leave its troops behind," Levin said in a statement/James Rosen, Idaho Statesman. More here. (AP file photo)
Question: Anyone out there opposed to the prisoner swap that brought Idahoan Bowe Bergdahl back to this country?
---
---