Fri., July 11, 2014, 3:40 p.m.
Parking Boot Returns To Spokane
The dreaded parking boot is back. Spokane city officials brought out the boot Thursday to show what's waiting for parking ticket scofflaws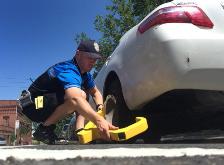 when they get caught parking downtown again. The wheel lock "boot" device is being reintroduced to the city arsenal after an absence of more than 25 years. Vehicle owners with four or more unpaid violations will be subject to having their rides immobilized with the heavy steel locking device. The city has purchased 10 of them. "Don't drive with the boot on," said city spokeswoman Julie Happy, because the boot will damage the vehicle. Owners will have to pay their fines, and accumulated penalties and interest, before the city will remove the boot/Mike Prager, SR. More here. (SR photo by Colin Mulvany: Spokane Parking Enforcement Officer Josh Weigelt demonstrates installation of an immobilization boot on a car)
Question: When and where did you last get a parking ticket? Did you promptly pay it?
---
---