Fri., July 11, 2014, 1:02 p.m.
On The Waterfront — 7.11.14
I met David and Sara and their two dogs in back of the Coeur d'Alene Library during my noon walk today. Actually, I couldn't avoid David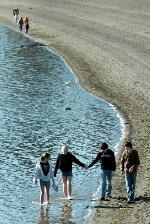 because he emerged from the shade of the trees to ask to use my cell phone. He and Sara were traveling from Portland to Maine. Actually, Sara had met David outside of Portland, where her vehicle had broken down. She didn't have the $600 to repair it. So the two of them put their thumbs out. They got run out of Post Falls WalMart entrance for loitering. Happily, David was able to contact a friend in Post Falls, who agreed to pick them up. It was a long shot because the two parties has split apart some ways back as they hitched their way toward North Dakota. The second man had a friend who had a vehicle to pick David and Sara up. David had his hair dyed blue, tats and the strangest nose ring I'd ever seen. Sara said she'd been riding trains since she was 16. She's now 20. I don't know how this tale is going to end. But sometimes it's interesting to stop and talk to those we easily dismiss as transients and panhandlers. Some lead lives more interesting than ours/DFO.
---
---