Mon., July 14, 2014, 1:14 p.m.
Gov. Evans Got Dem Chair He Wanted
When asked, former chairman Greenfield surrendered his post. Gov. Otter is having no such luck. Perhaps Gov. Butch Otter could end the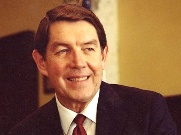 simmering summer saga over the Idaho Republican Party chairmanship if he simply asked for Barry Peterson's resignation. That's what Democratic Gov. John Evans, pictured, did when he became governor in 1977, telling Boise lawyer John Greenfield he wanted his own man in the job. When Evans asked Greenfield to quit, Greenfield's reply was, "Why should I do that?"Evans, who died last week at 89, looked Greenfield in the eye and said, "Because I'm governor and you're not"/Dan Popkey, Idaho Statesman. More here. (Courtesy photo: Idaho Historical Society)
Question: Do you think Gov. Butch Otter should simply ask for the resignation from Barry Peterson, who's trying desperately to hang onto his Idaho GOP chairmanship?
---
---