Mon., July 14, 2014, 11:43 a.m.
Idahoans, Iowans Tired Of Mix-Ups
Idaho and Iowa are, in fact, two different states, and entrepreneurs, writers and creative-types want the world to learn the difference. It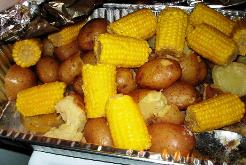 turns out, people have been confusing Idaho and Iowa for quite some time. At least since the 1980s, when Idaho journalist and author Tim Woodward got a letter from a woman explaining her Idaho-Iowa mix-up. Woodward says he wrote about it, and letters from other readers started pouring in. "At one point, the file weighed five pounds of unused material," he says. By the early 1990s Woodward had enough Idaho-Iowa fodder for a book. Woodward has documented national broadcasters making the mistake on live television. "In a golden moment from his reporting days, NBC anchorman Tom Brokaw ended a newscast with a panoramic sweep of the Boise front and the words 'this is Tom Brokaw, reporting from Boise, Iowa,'" Woodward reads from his book/Emilie Ritter Saunders, Boise Public Radio. More here. (Photo by Flickr Creative Commons:Both agricultural states, Idaho is known for potato production while Iowa is known for its corn)
Question: Do you know anyone who routinely gets "Idaho" and "Iowa" mixed up?
---
---