Mon., July 14, 2014, 8:14 a.m.
Image Problem Dogs Local Police
The Coeur d'Alene Police Department may be taking the heat this week, but a string of officer-involved shootings in the past couple of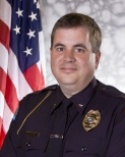 years has many law enforcement agencies concerned about their eroding public image. Kootenai County Sheriff Ben Wolfinger and Undersheriff Dan Mattos met with Post Falls Police Chief Scot Haug, pictured, on Friday to discuss just that. "That's what we are doing here today. We were discussing how to deal with that image," Wolfinger said after a morning meeting at Calypso's Coffee in Coeur d'Alene. "You should start seeing some stuff come out on this early next week." The KCSO became embroiled in controversy last week when two deputies were filmed in a cellphone video, accusing a car full of young adults of drug-dealing because the officers thought they heard one of them say "nickel sack"/Jeff Selle, Coeur d'Alene Press. More here.
Question: Do you think local police have an image problem?
---
---