Mon., July 14, 2014, 8:27 a.m.
Java Owners Discuss Shooting
David Patterson, who owns and operates Java on Sherman with his wife, Lindsay, said he is devastated by the officer-involved shooting of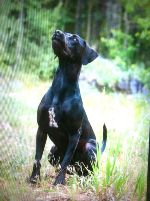 a dog that occurred in the parking lot of his store Wednesday. Patterson called the non-emergency line at the Coeur d'Alene Police Department after he arrived at work Wednesday morning and saw a white van. The van, which was facing Lakeside Avenue, matched a description he received on social media of a vehicle suspected of targeting children in the area. "It's my responsibility to call the police department. As a father, as a business owner, as a member of this community, it's my responsibility to make that phone call," David said. According to the Pattersons, several police officers and at least two patrol vehicles responded to the call. David returned to work and said he did not hear the gunshot that killed Craig Jones' 2-year-old Labrador, Arfee/Keith Cousins, Coeur d'Alene Press. More here.
Thoughts?
---
---