Mon., July 14, 2014, 12:57 p.m.
Spokane's AM-790 Targets Boomers
Baby boomers are reclaiming the Spokane radio station of their youth: KJRB. In the 1960s and 70s, KJRB was the area's premier Top 40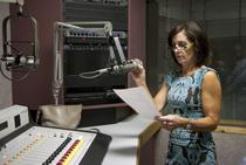 station broadcasting the rock 'n' roll soundtrack for teens and young adults. The format changed over the years, most recently playing classic country. That all changes today at 8 a.m. when Boomer Radio goes live on AM-790. It's Spokane's first local talk radio station to focus on boomers – the largest generation born between 1946 and 1964 and known for their independence and free spirits. Today they are also known for their buying power, with 75 percent of the financial assets in the U.S. in the hands of people older than 50 – a marketer's dream and one of the reasons executive producer Kent Adams, a fellow baby boomer and longtime member of the local broadcast industry, thinks the boomer format will attract a large audience and support itself with advertising dollars/Erica Curless, SR. More here. (SR photo by Dan Pelle: Julie Humphreys reads copy for promotional radio spots during a rehearsal session at KJRB)
Question: Is this a radio format that interests you?
---
---