MONDAY, JULY 14, 2014, 5:08 P.M.
Study: Biking Tied To Prostate Cancer
This study analyzed data on 5,282 male cyclists, 16 to 88 years old (average age, 48). All were described as habitual cyclists; some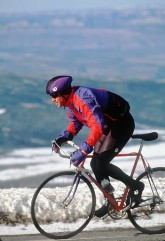 commuted to work on their bikes, some raced as amateurs and others cycled recreationally. About 8 percent reported having erectile dysfunction, 1 percent had an infertility diagnosis and 1 percent had prostate cancer. (The rate was 2 percent among men 50 and older). The more hours a week a man spent cycling, the more likely he was to have prostate cancer. Among men 50 and older, those who biked four to 8.5 hours a week were three times as likely to have prostate cancer as were those who biked less than four hours a week. They were six times as likely if they biked more than 8.5 hours a week. However, time spent cycling was not linked to erectile dysfunction or infertility/Washington Post. More here.
Question: Is this a bike deal breaker for the Men of HBO?
---
---