Mon., July 14, 2014, 4:30 p.m.
Treasurer Crane: Facts Matter
Idaho Treasurer Ron Crane wrote the following op-ed article for the Lewiston Tribune: "A recent editorial by the Tribune included making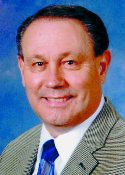 false accusations about my service in the Idaho treasurer's office. These claims by my Democrat opponent and the fact that the Tribune's editorial page editor didn't bother to check the facts before he put them in print give those charges no credibility at all. My opponent and her friends in the media keep repeating that the state treasurer lost $19 million of taxpayer money. Not true. Unrealized losses do not amount to realized losses. They only become realized losses when you sell the security/securities in question. A certified public accountant should know that, especially if she is running for office. A biased editorial writer may not know this, but he should at least seek the truth before making unfounded statements. Facts matter." More here.
Question: Do you have misgivings re: performance of four-term Idaho Treasurer Ron Crane?
---
---