Tue., July 15, 2014, 11:59 a.m.
Camden: Covering Pot Not That Hot
During of quarter century-plus of living in Spokane, I regularly had to explain to friends and relatives elsewhere that it was not a suburb of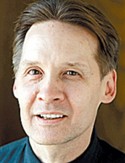 Seattle and thus did not get rain all the time. Now in Olympia, I battle a new misconception, that being the newspaper's marijuana reporter is not like being its wine critic or beer columnist. It's interesting on many levels – government policy, changing social standards, complicated chemistry – but there's no sampling of the subject matter and it has about as many laughs as sitting through a legislative budget hearing. Which is to say, almost none/Jim Camden, SR. More here.
Question: Would you like to be a newspaper marijuana reporter?
---
---