Tue., July 15, 2014, 2:27 p.m.
One Thing Congress Does Well
Congress is doing a great job, and this is not a joke. Sure, there's a lot of gridlock in Washington and on many issues, Congress can't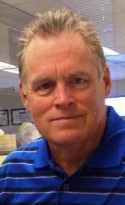 seem to agree on the color of the sky, let alone reach agreement on anything of substance. But when it comes to diabetes awareness, and appropriating funds to cover research and prevention programs, it's a different story. Funding for diabetes research, which was about $320 million in 1997, is now in the billions of dollars. Support of this nature is significant to me, because I've had diabetes for more than 15 years and have experienced many of the complications. If we do nothing, it's projected that one in three people will have diabetes by 2050. For a society, that is unacceptable/Chuck Malloy, Ridenbaugh Press. More here.
Question: Do you or any of your loved ones have diabetes?
---
---