Tue., July 15, 2014, 3:07 p.m.
Simple Mind: We Love/Hate Summer
We all have a love/hate of summer time. We love the weather, we love the bar-b-ques. We love heading to the water. be it fishing or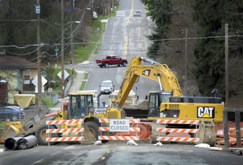 swimming. The sports are alive and well. The cook outs, visiting, vacationing, yep. it is all good with us. But we HATE road construction. The waiting in a hot car if you aren't lucky enough to have A/C. Or just waiting. Or if you didn't allow enough time. You are late and not happy. It doesn't matter if it is city, state or federal. It all is the pits. Here at our place, we have the state tearing up the roads. Last week for 2 or was it 3 days of waiting 25 minutes to get 3 miles. Getting from the city of Hope to the City of Sandpoint took a lot of patience/Cis Gors, Simple Mind. More here. (SR file photo)
Question: Does road construction bug you much during Inland Northwest summers?
---
---