Tue., July 15, 2014, 3:33 p.m.
Will California Become 6 States?
Silicon Valley venture capitalist Tim Draper presents his drivers license for identification purposes to Heather Ditty, elections manager for the Sacramento County Registrar of Voters, as he turns in boxes of petitions for a ballot initiative that would ask voters to split California into six separate states Tuesday in Sacramento, Calif. Draper delivered what he said were 44,000 signatures, of the 1.3 million the Six California's campaign plans to submit statewide this week. (AP photo)
Backers of a plan to cut California into six states say they now have enough signatures from supporters to get their proposal on a general-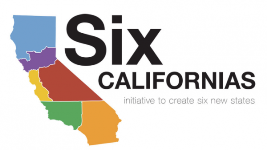 election ballot in the state. The plan would create new states with names like Jefferson, Silicon Valley and South California. The initiative's main backer is tech industry investor Timothy Draper, who plans to hold a news conference today to officially announce that his group has enough petition signatures to move the plan forward. The constitutional amendment would need more than 807,000 valid signatures to qualify, SFGate reports. If the Six Californias petition is verified, the ballot proposal wouldn't come up for a vote until 2016; to be enacted, the plan would require the approval not only of California's Legislature, but also of the U.S. Congress/Bill Chappell, KBSX 91.5. More here.
Question (for all you ex-Californians out there): What do you think of the plan to carve California into six states?
---
---