Wed., July 16, 2014, 8:51 a.m.
Acting Chief Apologizes To Dog Owner
Clark promises full investigation, with 3rd party review; officer who shot Arfee taken off patrol
Coeur d'Alene's police chief called the controversial police shooting of a dog inside a parked van last week "a regrettable tragedy" and said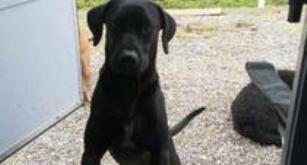 the matter is being fully investigated. At the start of Tuesday night's City Council meeting, interim Chief Ron Clark and Mayor Steve Widmyer addressed last Wednesday's fatal shooting of the 2-year-old black Labrador named Arfee. The incident sparked a storm of criticism of the patrol officer's actions. "We as a city again want to offer our complete apology to Mr. (Craig) Jones," the dog's owner, Widmyer said. The city also will "take full responsibility" for the dog's death if the investigation determines mistakes were made, the mayor said. Clark said he reached out to Jones, a former Coeur d'Alene resident now living in Colorado/Scott Maben, SR. More here. (Facebook photo: Craig Jones)
Question: Acting Chief Clerk has apologized to Arfee's owner. The officer who shot Arfee is no longer on patrol. The department will have a citizen panel review the internal report of the shooting. Are you satisfied that the police department is handling this incident properly now?
---
---