Wed., July 16, 2014, 9:08 a.m.
Ailing Justice Plans To Return To Boise
Seven weeks after he was taken by air ambulance to Salt Lake City, Idaho Supreme Court Justice Warren Jones plans to return to Boise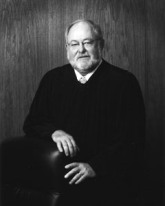 on July 25. But when he'll resume his place on the five-member court is unclear. "No date has been set yet to return to work," Administrative Director of the Courts Patti Tobias said on Tuesday. "We all expect a full recovery and we expect him back on the court." Jones, 70, was stricken ill June 6, just as the court was to hear oral arguments in Twin Falls. He's been treated in the University of Utah Hospital system for an unspecified illness. His family "has not given us all the details" of his diagnosis, Tobias said. "There was a medical incident." Jones, appointed by Gov. Butch Otter in 2007, was elected in 2008 and re-elected in May to a six-year term ending in 2020/Dan Popkey, Idaho Statesman. More here. (Photo: Idaho Supreme Court Web site)
Thoughts?
---
---