Wed., July 16, 2014, 3:44 p.m.
Bergdahl: Obama Saved My Life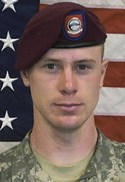 U.S. Army Sergeant Bowe Bergdahl has a new lawyer to defend him as the Army investigates the circumstances surrounding his kidnapping by the Taliban in 2009. And the former hostage wants President Obama to know that he is grateful the U.S. government traded five Taliban commanders in exchange for his release in May. "Sergeant Bergdahl is deeply grateful to President Obama for saving his life," Bergdahl's new lead counsel Eugene Fidell told The Daily Beast in an interview Wednesday, adding that the former Taliban prisoner had personally authorized him to say that/Daily Beast. More here.
Question: Do you think the Tea Party will appreciate Bergdahl for giving President Obama credit for saving his life?
---
---