Wed., July 16, 2014, 8:37 a.m.
CdA To Pursue BNSF Land Purchase
The Coeur d'Alene City Council unanimously agreed Tuesday night to pursue the purchase of another 2-mile stretch of old railroad right-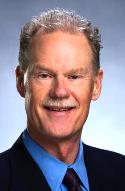 of-way along the Spokane River. If the city can successfully close on the deal, the city would then own all of the abandoned railroad bed from roughly City Park to Huetter Road at the western edge of the city limits. The deal is far from done because the council still must decide on a funding mechanism to pay for the $2.5 million property. City attorney Mike Gridley, pictured, presented the proposal to the council Tuesday night, saying he has been in active negotiations with Burlington Northern Santa Fe railroad since January. The railroad and the city finally settled on a price for the property last week, and the city now has 60 days to finalize a purchase and sales agreement. They want to close on the property by December of this year or January 2015/Jeff Selle, Coeur d'Alene Press. More here.
Question: Last night, Councilmen Dan Gookin and Steve Adams proposed that the city expand their vision by adding about $10 million worth of land to the BNSF property, including the old Stimson mill site. Would you like to see Coeur d'Alene sew up that entire stretch of the Spokane River by buying that much property?
---
---