Wed., July 16, 2014, 11:23 a.m.
CPD Investigate Child Enticement
Coeur d'Alene police are investigating a possible child-enticing incident that occurred at about 3:15 p.m Tuesday in the 100 block of East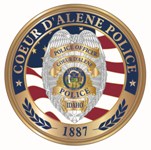 Appleway. A heavy-built white male in his late 50s or early 60s attempted to lure a 16YO female pedestrian into his vehicle by trying to give her a ride home. The suspect pulled his late-1990s/early 2000s red/maroon four-door sedan in front of the girl, insisting that she get in. The suspect had medium length, gray-born hair and was wearing a blue shirt and sunglasses. Anyone with information about the incident is asked to contact Coeur d'Alene police.
---
---