Wed., July 16, 2014, 1:49 p.m.
Ex-Trustee Regan Rips Common Core
With all the rhetoric touting the imagined benefits of the looming Common Core Standards, perhaps it is time to apply a little critical thinking and examine some of the claims made about Common Core. 'Idaho Core Standards are better than Common Core Standards.'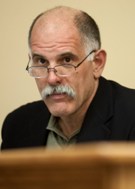 No, Idaho Core Standards are Common Core Standards with the word "Common" scratched out and "Idaho" written in its place. This makes them easier to market to Idahoans but functionally, there is no difference. In fact there is a legal requirement that the state standards cannot vary more than 15 percent from the national standards. 'Common Core Standards were developed by the state governors using a 'grass roots,' bottom-up effort.' No. Imagine Butch and Bobby, Gary and 47 other governors sitting down with their crayons and crafting the new standards. Ridiculous. Furthermore, if it was a communal effort by government employees (politicians and teachers) then the standards produced would be the property of the taxpayers who paid for the effort and the standards as written would be in the public domain. But they aren't. The copyright for the standards is owned by a private company; the company that wrote them/Brent Regan, Coeur d'Alene Press op-ed column. More here.
Thoughts?
---
---