Wed., July 16, 2014, 4:35 p.m.
GOP Blocks Anti-Hobby Lobby Bill
Senate Republicans on Wednesday blocked a bill that would have reversed the Supreme Court's ruling in Hobby Lobby and required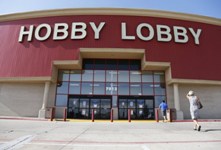 companies to offer birth control coverage to employees. Democrats pushed the legislation in response to the high court ruling allowing employers to decline to offer birth control coverage in health plans if it conflicted with their religious beliefs. Three Republicans, Sens. Lisa Murkowski (Alaska), Susan Collins (Maine) and Mark Kirk (Ill.), voted with Democrats, but the bill fell short of the 60-vote threshold, by 56-43. Democrats have jumped on the birth control issue, believing it will help turn out female voters in November's midterms/The Hill. More here. (AP file photo)
Question: Are Democrats right in believing that their opposition to the Hobby Lobby ruling by the Supreme Court will help them at the polls in November?
---
---