Wed., July 16, 2014, 1:18 p.m.
Johnson: Onboard The Orient Express
I understand perfectly what Proust meant when he referred to ''the most intoxicating of romance novels, the railway timetable.'' And what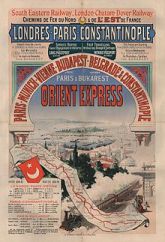 more exotic destination than Istanbul or, better yet, Constantinople. From the 1880′s until the 1970′s you could head for the exotic city that straddles Europe and Asia onboard a train, perhaps the most famous train of all, the Orient Express. From its earliest days until after World War II the Orient Express was a gleaming luxury train, all cut glass and mahogany. For a few weeks this summer the Orient Express, at least four cars and one of the original locomotives, is back on rails in Paris. Because I love trains and figuring this might be my one chance to actually be onboard the train that sparked a thousand stories I trotted down to the World Arab Institute in Paris one recent rainy day to have a look. It was stunning/Marc Johnson, The Johnson Post. More here. (Wikipedia photo: Poster advertising the Winter 1888-89 timetable for the Orient Express)
Question: Have you ever taken a long train trip?
---
---