Wed., July 16, 2014, 3:19 p.m.
Pot Rules: Brownies Yes, Lollipops No
Legal marijuana stores won't be able to sell lollipops, gummy bears or other candies infused with the drug, but will be able to sell properly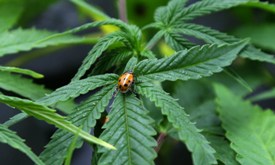 labelled brownies and cookies, a state agency decided today. The Liquor Control Board approved rules for marijuana-infused food products, also known as edibles, designed to limit items that may appeal strongly to children. Banned will be products that could easily be mistaken for candies commonly sold to children. Lollipops, gummy bears and cotton candy can sometimes be found in medical marijuana dispensaries not regulated by the board, but won't be allowed in state-licensed recreational marijuana stores/Jim Camden, Spin Control. More here. (AP File photo: A ladybug crawls on a marijuana plant)
Question: Have you ever eaten a brownie with marijuana in it?
---
---