Wed., July 16, 2014, 8:59 a.m.
Sims & Co Killed Mental Health Center
North Idaho won, yet lost. Coeur d'Alene was frontrunner -- by a slight margin -- for a mental health crisis center, according to committee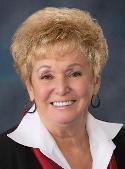 evaluations obtained by The Press through a public records request. But despite the overall high score, a lack of legislative support killed Coeur d'Alene's chance to land the first state-funded mental health crisis center, Gov. Butch Otter's office confirmed Tuesday. North Idaho supporters have maintained Coeur d'Alene stood above the competition for the center, but that politics ultimately led to Idaho Falls being chosen instead. There's still some hope for the future, however. "The placement of additional centers depends on the success of this initial effort," Otter's press secretary, Jon Hanian, said. "'Success' will include receiving continued financial support, which in turn will require having local legislative champions." With North Idaho legislators Kathy Sims (pictured), Vito Barbieri, Bob Nonini and Ron Mendive voting nay, a bill to fund three mental health crisis centers was approved last session/Taryn Thompson, Coeur d'Alene Press. More here.
Question: And you wonder why Kootenai County shouldn't send Far Right ideologues to Boise to legislate against our best interests?
---
---