Wed., July 16, 2014, 9:03 a.m.
Stone Fruits Rock
When it comes right down to it, stone fruits rock. The soft, sun-ripened fruits epitomize summer, when children can rinse off sticky fruit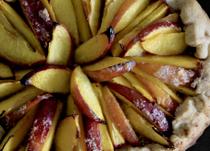 juice from their faces and limbs or wherever else the sweet liquid has landed – in their hair, on their bellies, between their toes – by taking a few passes through the sprinkler. Stone fruit season peaks in July and August, when Spokane's average temperature is at its highest. The bounty includes plums, peaches, apricots, cherries, nectarines and other fleshy fruits – including hybrids – that grow around a hard pit, or stone, instead of numerous seeds. One of my favorite ways to spotlight stone fruits is to arrange slices on free-formed and opened-faced galettes/Adriana Janovich, SR. More here. (SR photo: Highlight the bright, almost lemony flavor of nectarines in this open-faced tart from Smitten Kitchen)
Question: What's your favorite stone fruit?
---
---