Thu., July 17, 2014, 8:44 a.m.
IRS Phone Scam Hits INorthwest
A scam in which an aggressive caller masquerades as an IRS agent demanding immediate payment has spread into Idaho and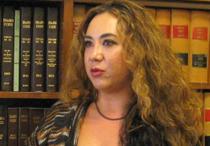 the Northwest. Officials want folks to just hang up. Police in Moses Lake intercepted a payment a victim sent in response to one of the calls three weeks ago at the post office and got the victim's money back, according to the Associated Press. Two Idaho women who got the calls termed them "scary." The scams particularly target seniors and immigrants. Brett DeLange, head of the Idaho Attorney General's Consumer Protection Division, said, "The IRS is not going to call you and say you owe money. … That's just not how they do business. You're going to get a notice in the mail"/Betsy Russell, SR. More here. (SR photo: Jennifer Pedregon of Boise received one of the "IRS agent" scam phone calls; so did her parents)
Question: When did you last encounter a scammer?
---
---